SALLY SMART
The Choreography of Cutting
November 30 - December 2, 2017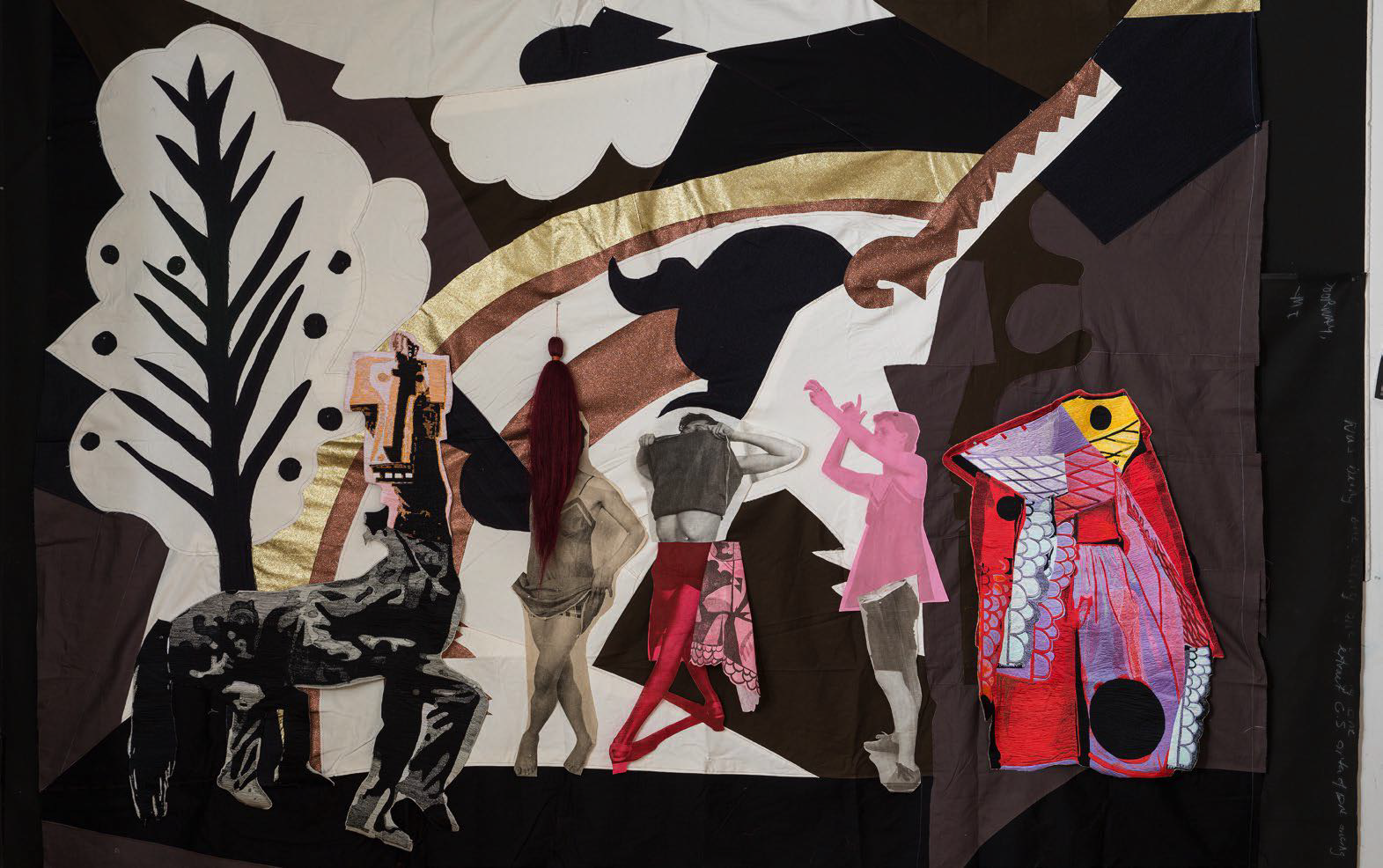 Sally Smart, The Choreography of Cutting, 2017. PostmastersROMA.
PostmastersROMA is pleased to present the fifth solo show of Sally Smart with the gallery, marking over a decade of collaboration with the artist. This exhibition is hosted by 1/9unosunove gallery, a staple of the Roman art scene, and is located in the historic center.

Sally Smart is one of Australia's most significant contemporary artists. She is known for her large-scale cut-out assemblage installations. The Choreography of Cutting (2015 —) is a major ongoing project which reframes and refigures the historical avant-garde dance company Ballets Russes and its experimental choreography, costume and theatre design as well as its legacies. Exhibited in Sydney, Adelaide, London, Canberra, Jakarta, New York, Melbourne and Yogyakarta. The Choreography of Cutting continues it's evolution in Rome. In this latest iteration, Smart will exhibit her remarkable new assemblage embroidery works, created by her digitally cutting up images of the costumes designed for the Ballets Russes by key early modernist artists including Pablo Picasso, Henri Matisse, Mikhail Larionov and Sonia Delaunay among others. Those resulting images are manually embroidered by Indonesian artisans in Yogyakarta, further connecting cultural histories across continents.

The idea of movement in The Choreography of Cutting differentiates this body of work from collage and assemblage traditions of the past. Cutting and assembling is essential to Smart's practice. The act of cutting is definitive, both destructive and constructive, creating multiple elements by fragmenting a whole. The movements of art making such as reaching, stepping, pinning, cutting, bending, sewing, and moving through her studio space Smart relates to dance choreography.

The luxury Italian fashion house, Marni, has selected Sally Smart for their most recent artistic collaboration. Images from The Choreography of Cutting series animate their Pre/Fall Women's 2017 Collection, Men's Fall/Winter 2017 Collection and Spring/Summer 2018 Collection.


Sally Smart exhibits regularly throughout the world. A recipient of numerous awards and prizes, received an Australia Council Fellowship 2012-14, (b.1960) is currently Vice-Chancellor's Professorial Fellow at University of Melbourne and a board member of the National Association for the Visual Arts (NAVA). The University of Melbourne and was awarded a major public art commission, 2012 - 2014, Shadow Trees, Buluk Park, Melbourne, Australia.

Recent projects include: Art Collaboration with Italian Fashion House Marni: Pre-Fall Women's 2017 and Men's/Fall Winter 2017 Collecions; Performance/Punakawan/ Chout (The Choreography of Cutting), Art Gallery of South Australia, Adelaide (2017); The Choreography of Cutting, Postmasters Gallery, New York (2016); Odyssey: Navigating Nameless Seas, Singapore Art Museum, Singapore (2016); Conversation: Endless Acts of Human History (w. Entang Wiharso), Galeri Nasional Indonesia, Jakarta (2016);The Choreography of Cutting, Purdy Hicks Gallery, London (2015).

Smart is represented in significant public and private collections including National Gallery of Australia, Canberra; National Gallery of Victoria, Melbourne; The Art Gallery of South Australia, Adelaide; GOMA/Queensland Art Gallery, Brisbane; Museum of Contemporary Art, Sydney; The University of Melbourne Art Collection, Melbourne; Chartwell Collection, Auckland Art Gallery, Toi o Tamaki, Auckland, New Zealand; Herbert F. Johnson Museum, Ithaca, NY, USA; The William Benton Museum of Art Connecticut's State Art Museum, USA; British Museum, London, UK; Deutsche Bank, Frankfurt, Germany; and the International Collage Center, Pennsylvania USA.
Sally Smart
The Choreography of Cutting
2017
installation view
Sally Smart
The Choreography of Cutting
2017
installation view
Sally Smart
The Choreography of Cutting
2017
installation view
Sally Smart
Horse Craft (Pink)
2016
manual embroidery (two parts), synthetic thread and pins
94 x 56 cm (37 x 22 inches)
Sally Smart
Performance (Chout Rehearsal)
2016
cotton, screen printed linen elements, synthetic thread manual embroidery,various collage elements, and pins
275 x 375 x 8 cm (108 x 147.5 x 8 inches)
Sally Smart
Performance (Chout Rehearsal) (detail)
2016
Cotton, screen printed linen elements, synthetic thread manual embroidery,various collage elements, and pins
275 x 375 x 8 cm (108 x 147.5 x 8 inches)
Sally Smart
Performance (Chout Rehearsal) (detail)
2016
cotton, screen printed linen elements, synthetic thread manual embroidery,various collage elements, and pins
275 x 375 x 8 cm (108 x 147.5 x 8 inches)
Sally Smart
Performance Assemblage (Chout)
2016
synthetic embroidery thread, pins with variable elements
119 x 79 cm (47 x 31 inches)
Sally Smart
The Choreography of Cutting
2017
installation view
Sally Smart
Eye #1
2017
synthetic thread, manual embroidery and hand stitching
31 x 51 cm (12 x 20 inches)
Sally Smart
Eye #2
2017
synthetic thread, manual embroidery and hand stitching
31 x 51 cm (12 x 20 inches)
Sally Smart
The Choreography of Cutting
2017
installation view
Sally Smart
Performance Assemblage (Chout/Trickster)
2016
synthetic embroidery thread, pins
122 x 89 x 11.5 cm (48 x 35 x 4.5 inches)
Sally Smart
The Choreography of Cutting
2017
installation view
Sally Smart
Performance Assemblage (Blue Chout)
2016
synthetic embroidery thread, pins
94 x 56 cm (37 x 22 inches)
Sally Smart
Performance/Trickster (The Choreography of Cutting)
2016
digital print on organza fabric with collage elements and pins
300 x 400 cm (118 x 157 inches)
Sally Smart
Performance/Trickster (The Choreography of Cutting) (detail)
2016
digital print on organza fabric with collage elements and pins
300 x 400 cm (118 x 157 inches)