"DON'T FLEE THE ART MARKET!"
organized by Paulina Bebecka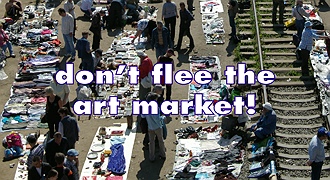 Come one, come all,
from Postmasters' get to roll
under the green tree
in the paper of color;
to see the sheen
of a smile so bold
once they stumble and fall
from many joys
art brings to girls and boys

Postmasters Gallery is transforming into an art market to cater to your love for the arts and your gift shopping needs. We will feature works, big and small made by very bright young artists. Whatever your desire for a perfect gift, we will have it: you want a piece of hair with your collage? We got it. You want a dog's mouth? We got it. You want a treasure map? We got it. You want a coyote tail? A breast mountain? A lion coming out of a captain's beard? A set of wooden blocks? Maybe even a painting? We got it all for every pocket.
Participating artists:
Hackworth Ashley Shinsuke Aso
Agata B. Jennifer Brantley
Zach Cregger Brian Cronin
Ira Eduoardova Thomas Gluibizzi
Dan Gluibizzi Hands On
David Herbert Suzanna Kohly
Michelle Matson Jenny Morgan
David Mramor Seamus Mulholland
Kader Muzaqi Chris Oh
Steve Oh James Prez
Naropa Sabine Jenny Salomon
Sarah Smizz Eric Taylor
and others...
Postmasters Gallery, located in Chelsea 459 West 19th Street (corner of 10th Avenue), is open Tuesday through Saturday to 11 - 6 pm. Please contact Magdalena Sawon at 212-727-3323 with any questions or image requests.