casting a wide net
JODI • Olia Lialina • Wolfgang Staehle
Eva & Franco Mattes • Constant Dullaart
Oliver Laric • Petra Cortright • Katie Torn
Austin Lee • Rollin Leonard
November 30, 2013 - January 18, 2014

<![if !supportLineBreakNewLine]>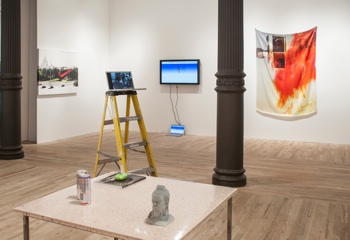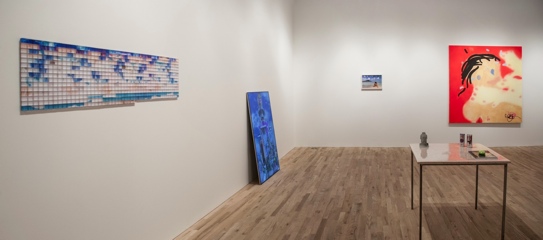 casting a wide net installation view

casting a wide net is a cross-generational exhibition of artists who work in the technology-aware environment we all inhabit.

The show brings together legendary artists from the early pioneering days of media art (Olia Lialina, JODI, Wolfgang Staehle); artists like Eva and Franco Mattes, Constant Dullaart, and Oliver Laric who have been working and showing internationally for many years; and a new generation of younger artists just gaining wider recognition (Petra Cortright, Katie Torn, Austin Lee and Rollin Leonard).

The show will present works on screens and off. Among them:
Summer, a net project by Olia Lialina - read more on Hyperallergic;
a print version of Jennifer in Paradise by Constant Dullaart;
a new video of JODI abusing a soft LED screen the way only JODI can;
a historic Nikeplatz print by Eva and Franco Mattes, along with their brand new project;
a table sculpture by Oliver Laric;
and paintings by Austin Lee and Petra Cortright.

A note:
The alternative title for casting the wide net could be the last picture show, as this indeed will be our final group exhibition focusing on net and digital-related art. No more. It's time to replace isolation by integration.
Postmasters has a rich history of showing works in all media from watercolors to software art. We are medium-neutral but have always tried to champion artists who seek new forms of creative expression and works that are reflective of their time. It can be argued that today all artists engage technology in one way or another. It is time to integrate and leave behind the labels of media artist, new media artist, digital artist, internet artist, post-internet artist, and such. Just ARTIST will do.
We will leave the historic media-based retrospectives to institutions.
JODI
Folding LED Screen Study
2011
single channel HD video
running time: 10 minutes
Olia Lialina
Summer
2013
online project, GIF distributed across websites of 21 artists
Wolfgang Staehle
The Road
2011
video animation in collaboration with Jan Gerber

There is 1686553615927922354187720 possible combinations of arranging the 24 cards in the animation. (To put it in perspective: if every person on earth (some 7 billion) would do one combination every second, it would still take around 8 million years to lay down all possible combinations. One could say the duration of the piece approaches eternity. Right now, it takes about 6 seconds for a new image to appear in the animation. That makes the "duration" of the piece about 1.01193217x1025 seconds or 1.686553616x1023minutes or 2.810922693x1021 hours. "The Road" is a work of immense proportions).
Eva and Franco Mattes
Nikeplatz
2003
print on canvas
37.75 x 51 inches

In September 2003, together with their friends at Public Netbase, Eva and Franco Mattes set up a fake Nike advertisement campaign, including a public installation, a website and a performance. The news went out nationwide: "Karlsplatz, one of Vienna's main squares, is soon to be renamed Nikeplatz, and a huge monument in the shape of Nike's famous Swoosh logo will be built in Nikeplatz". The one-month campaign provoked the reactions of Vienna's citizens, city officials and the Nike group, which started legal action to put an end to this bizarre performance.
Eva and Franco Mattes
Untitled
2013
surveillance camera video, laptop, ladder
unique
Constant Dullart
Jennifer in Paradise
2013
restored digitally image re-distributed online with stenographically encrypted message
unique framed print
18.5 x 12.5 inches
http://rhizome.org/editorial/2013/sep/5/letter-jennifer-knoll/
Oliver Laric
Something Old, Something New
2013
Counterfeit CD and DVD granulate, polyurethane, bootleg print on demand book, Shanzhai phone, graphite powder, bioresin, energy drinks, steel
29 x 31 x 31 inches
Petra Cortright
Spektratek pigment* sapphire ruby hack
2013
digital print on silk
72.5 x 51 inches

Perta Cortright has said that all she needs to make work is a computer and that all the tools and content she needs are available on the internet. Whatever the program, she only uses the default settings, thereby avoiding invention while championing reuse. The paintings on silk are images of Cortright that were taken from her webcam video stills. Cortright videos are all self-portraits entirely free of post-production editing.
Katie Torn
The Calm Before The Storm
2012
single channel video (3D amination)
running time: 1:38 minutes
29 x 31 x 31 inches
Austin Lee
Slapstic (Action Painting)
2013
acrylic on canvas
70 x 68 inches
Rollin Leonard
Cell Body (Joe)
2013
838 1x1inch pieces c-print face-mounted to 1/2 inch optical-quality Plexiglas with UV film
56 x 15 inches