KENSUKE KOIKE
Dear Friend...
May 19 – June 30, 2018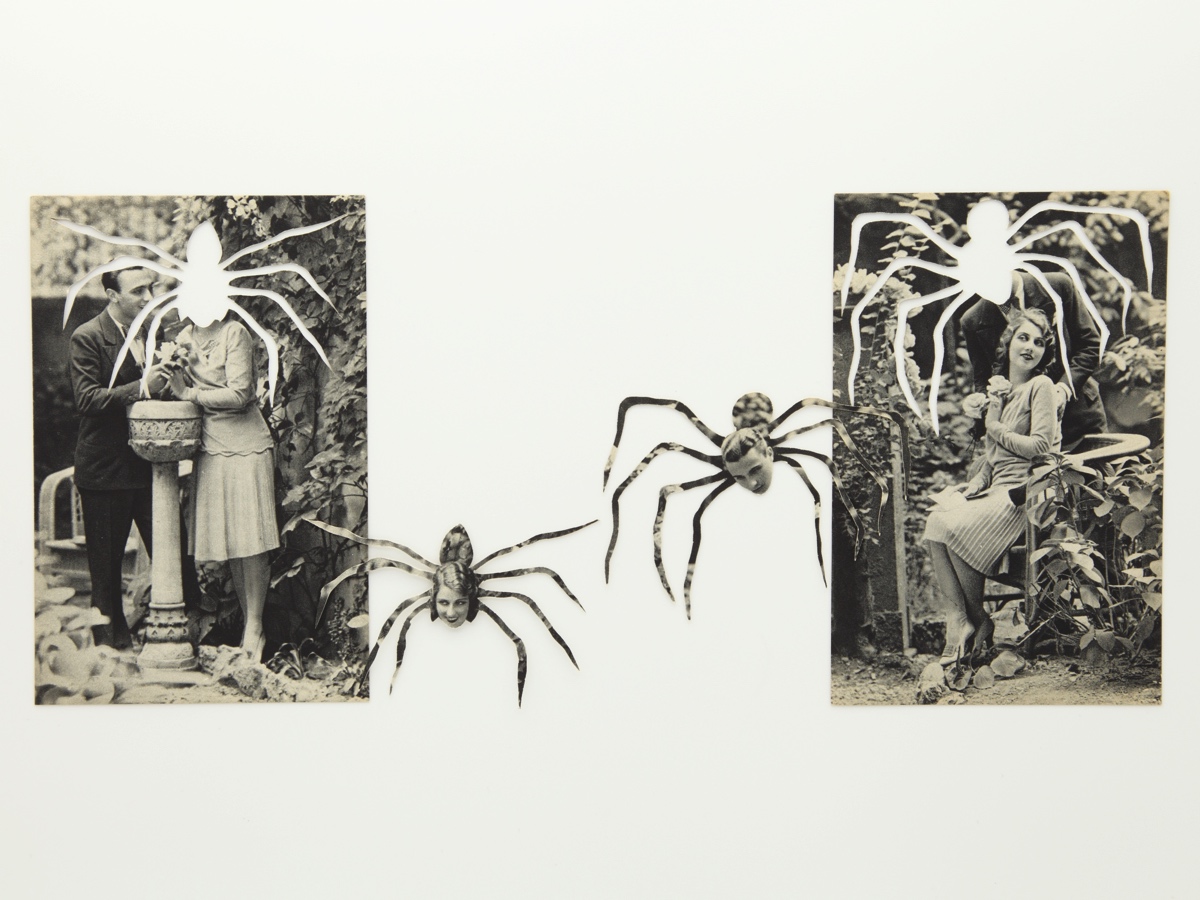 Kensuke Koike, Spiderman & Spiderwoman, 2016. Cut vintage postcards, 5.5 x 3.5 inches.
Postmasters is excited to announce Dear Friend..., our first exhibition with Kensuke Koike (b. 1980, Nagoya, Japan), who is currently based in Venice.

Koike is best known for his "Single Image Processing," an ongoing series in which he alters vintage photographs and postcards. He has one rule for making this work: nothing can be removed and nothing can be added. One photograph, one source from which to construct new work and a new meaning. The rigor and discipline of this approach unlocks unexpected richness in images that might otherwise be overlooked as familiar, or even dismissed as banal. His is a conceptual exercise of constraint and deceptive simplicity that tests and reveals how much may be achieved with very little.

If I have many ingredients in my refrigerator, I can cook everything I want. If I find only a carrot inside, I must cook it in the best way possible by chopping, grating, roasting, boiling, frying, drying, etc. With many ingredients I would probably never discover that the carrot itself can be such a delicious ingredient. –Kensuke Koike

The cut is Koike's medium. Slicing, collaging, and weaving are his methods. Scissors, scalpels, and even a pasta maker are his tools. Some works in his other ongoing series, "Today's Curiosity," are less restrictive, often cut, torn, and rebuilt into three-dimensional objects, while others become videos that record the process of the image's transformation.

Encountering Koike's unabashedly analog works, it feels as if the relentless march toward digital dematerialization of nearly everything has hit a roadblock. When he cuts into the original photograph, there is no undo, redo, or delete. He has one shot and one shot only. Mathematically precise, efficient and focused to retain the equilibrium of all elements, the original image changes in unexpected, intimate, and often magical ways, finding humor, compassion, or irony in the rearrangement of its parts.

In his notebook, the young Jasper Johns recorded his personal maxim for art production: "Take an object. Do something to it. Do something else to it. Repeat." For his own strategy, Kensuke Koike pushes this even further, and with uncommon success: he only needs the first two steps.


Kensuke Koike
Dear Friend...
2018
installation view
Kensuke Koike
Dear Friend...
2018
installation view
Kensuke Koike
Dear Friend...
2018
installation view
Kensuke Koike
Dear Friend...
2018
installation view
Kensuke Koike
Chamber Awakening
2016
cut vintage photograph
5.2 x 3.4 inches
Kensuke Koike
The Prince of Objects
2016
switched vintage photograph
3.5 x 2 inches
Kensuke Koike
The Piper
2016
cut vintage photograph
5 x 4 inches
Kensuke Koike
Best Friends Forever
2017
cut vintage photograph
6 x 4 inches
Kensuke Koike
Hide and Seek
2017
partially scratched vintage photograph
4 x 3 inches
Kensuke Koike
R-Rated
2018
altered postcard
6 x 4 inches
Kensuke Koike
Spiderman & Spiderwoman
2016
cut vintage postcards
5.5 x 3.5 inches
Kensuke Koike
Horse x Elephant
2018
cut postcard
5.8 x 4.8 inches
Kensuke Koike
Big beach
2016
altered postcards
8.1 x 11.1 inches
Kensuke Koike
Top breeder
2018
altered postcards
2.1 x 11.6 inches
Kensuke Koike
Top breeder (documentation)
2018
digital video (44 sec), altered postcards
Kensuke Koike
Transformer
2016
altered postcard
5.8 x 4 inches
Kensuke Koike
Ctrl+x, Ctrl+V
2018
switched postcard
5.7 x 4 inches
Kensuke Koike
Orbit
2018
cut postcard
5.7 x 4 inches
Kensuke Koike
3-2-1-Liftoff / Rocket boy
2018
cut postcard, metal wire
5.8 x 4 x 5 inches
Kensuke Koike
Medusa
2016
cut postcard
5.8 x 4 inches
Kensuke Koike
Third Eye (documentation)
2018
digital video (41 sec), holed postcard, atomic model balls
5.7 x 4 inches
Kensuke Koike
Smoke Gets in Your Eyes (documentation)
2018
digital video (50 sec)
altered postcard