DAVID HERBERT
Quarantine the Past
April 7 – May 12, 2018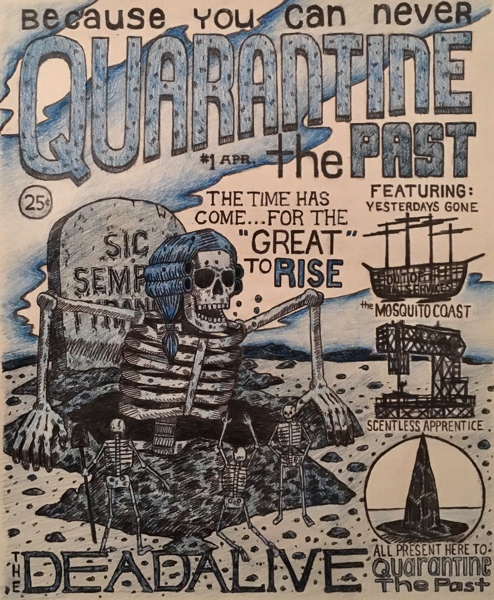 David Herbert, Quarantine the Past, 2017-2018.
Postmasters presents Quarantine the Past, an exhibition of three new sculptures and a series of drawings by David Herbert. The artist, who is best known for his fantastically-scaled, imaginative sculptures, weaves together a tale of American apocalypse, post-industrial reinvention, entropy, and magic. It is his third solo exhibition with the gallery.

The skeletons in the closet of American democracy may have been reinvigorated in the lead up to the election of President Trump, but its foundations were laid from our country's outset, and shrouded in mythology since. Herbert conjures our ideological beginnings in a series of drawings dominated by the character "Great Again," a giant skeleton donning a powdered colonial wig. This generalized forefather figure, interacts with smaller skeletal figures, possibly his subjects. Each scene is ambiguous: Is the giant a ravaging menace or are the figures manipulating it at their will? These frozen moments function like comic book panels or production stills with no linear narrative content.

Yesterdays Gone, a ghost-like wooden ship with the words "Out of Services" emblazoned on the hull, and Mosquito Coast, a giant sewing machine made with what resembles steel scaffolding, both serve as symbols for the disintegration of sociocultural, democratic ideals. The former derives its title from Fleetwood Mac's 1977 song "Don't Stop," used as Bill Clinton's presidential campaign song.

Mosquito Coast references the 1986 film The Mosquito Coast (based on the novel of the same name by Paul Theroux), in which an inventor, fearful of nuclear disaster and capitalistic greed, moves his family to the jungle. Upon arrival, he fabricates an ice machine that he wants to share with the locals. Let's just say it ends badly. Though Herbert's sculpture does not necessarily have a one-to-one relationship with the invention in the film, the sculpture reinforces the apocalyptic terror and illusionism of a B horror movie, which we find in the exhibition.

The third sculpture in the show is a giant hovering witches hat, Scentless Apprentice. Arthur Miller's The Crucible, a play about the Salem witch trials written as an allegory for McCarthyism, here serves as a reminder for the heightened fear that can drive people to believe extreme mythologies in the face of self-preservation.

David Herbert (b. 1977) is a sculptor based in upstate New York. His larger-than-life sculptures are often made with ordinary materials, elevating the most commonplace objects to a world of magic. Herbert has exhibited in the US and abroad, and his works are in the Saatchi Collection, London and the 21 c Museum Hotels, among others.


David Herbert
The Mosquito Coast
2018
steel, rope, wood, hardware, paint
6 x 3.5 x 2 feet
David Herbert
The Mosquito Coast
2018
steel, rope, wood, hardware, paint
6 x 3.5 x 2 feet
David Herbert
Scentless Apprentice
2018
glassine, PVA, iron oxide paint, chicken wire, wood, hardware
7 x 4 x 4 feet
David Herbert
Quarantine the Past
2018
installation view
David Herbert
Quarantine the Past
2018
installation view
David Herbert
Yesterday's Gone
2018
wood, paint and hardware
12 x 12 x 4 feet
David Herbert
Yesterday's Gone
2018
wood, paint and hardware
12 x 12 x 4 feet
David Herbert
Quarantine the Past
2017-2018
installation view
colored pencil and graphite on paper
9 x 12 and 11 x 14 inches
David Herbert
Quarantine the Past
2017-2018
installation view
colored pencil and graphite on paper
9 x 12 and 11 x 14 inches