MARK DORF
Transposition
April 29 - June 10, 2017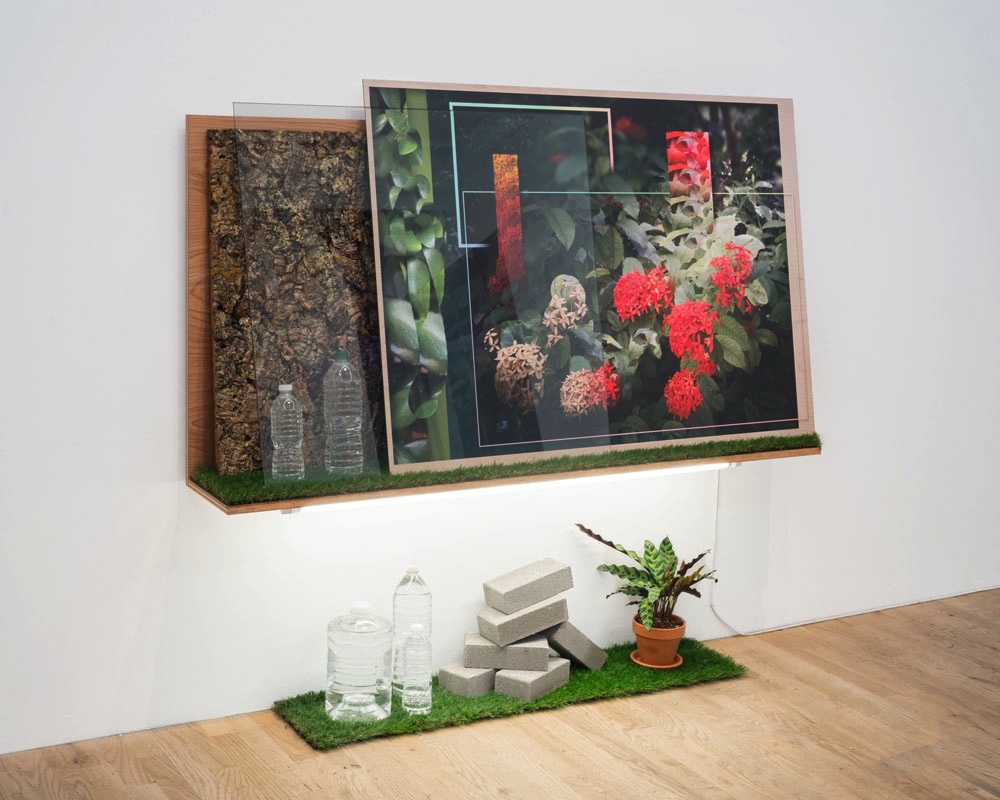 Mark Dorf, Landscape 12, 2017. UV print, Dibond, birch plywood, tempered glass, resin, bark, plants, synthetic turf, fluorescent lights, concrete, bottled water. 30 x 60 x 9 inches
Postmasters Gallery is pleased to announce Transposition, Mark Dorf's second solo exhibition with the gallery.

Transposition translates complex systems of material exchange into discrete photographs and photographic installations. Our surroundings—the natural world, the urban environment, virtual interfaces—appear to be segmented in the works, metaphorically materializing the human impulse to compartmentalize vast, codependent networks. Photographs of foliage, orchids, moss, and tree bark are presented on pseudo-architectural plywood forms alongside a host of synthetic objects: fake turf, silk plants, resin-coated bark, bottled water, plastic rocks, cement bricks, and fluorescent lights. Despite the precise arrangement of compositional elements, a confusion arises about the material taxonomy of each object. In using a material like plywood, Dorf also speaks to a process he describes as the "othering of Nature": This mass-produced version of wood does not reference real wood at all, erasing the farming, logging, and laminating that enabled its creation.

Gradients, blending effects, extreme isolated color shifts, and blunt, basic Photoshop tools, like clone stamp, feature in the imagery, creating rough layers and textures that augment the material confusion under scrutiny. Plywood, photographs of plywood (which bear the marks of the aforementioned blending techniques), glass, and bark are arranged in layers, much like an unflattened Photoshop document. The materiality of digital imagery becomes a part of the subject matter, underscoring how images are manipulated to appear more natural than the subject captured.

This body of work is a continuation of a series by the same name, originally commissioned and presented by the Fotograf Festival in Prague, CZ. There, Dorf photographed flora in the greenhouses of the Albertov Botanical Garden; his photographs and photographic installations were then exhibited amongst the foliage of the main greenhouse. For the new body of work presented at Postmasters, Dorf visited the New York Botanical Gardens in the Bronx and the Brooklyn Botanical Gardens. In the Czech Republic and New York, the subject matter in the photographs derives from a highly synthetic, packaged version of nature, much like the categorical definition of nature itself. Nature does not exist. It is an arbitrary classification, deployed to describe a space separate from humanity. Humans are inextricable to the environment; we extract resources from the earth to build cities and virtual villages, the effects of which reach throughout the biosphere.
Mark Dorf
Transposition
2017
installation view
Mark Dorf
Landscape 10
2017
UV print, Dibond, birch plywood
11 x 14 inches
Mark Dorf
Landscape 08
2017
UV print, Dibond, birch plywood
11 x 14 inches
Mark Dorf
Landscape 16
2017
UV print, Dibond, birch plywood
32 x 40 inches
Mark Dorf
Landscape 12
2017
UV print, Dibond, birch plywood, tempered glass, resin, bark, plants, synthetic turf, fluorescent lights, concrete, bottled water
30 x 60 x 9 inches
Mark Dorf
Landscape 12 (detail)
2017
UV print, Dibond, birch plywood, tempered glass, resin, bark, plants, synthetic turf, fluorescent lights, concrete, bottled water
30 x 60 x 9 inches
Mark Dorf
Landscape 12 (detail)
2017
UV print, Dibond, birch plywood, tempered glass, resin, bark, plants, synthetic turf, fluorescent lights, concrete, bottled water
30 x 60 x 9 inches
Mark Dorf
Transposition
2017
installation view
Mark Dorf
Landscape 18
2017
UV print, Dibond, birch plywood, OSB (Oriented Strand Board), Plexiglas, bottled water, artificial rock, synthetic turf
38 x 24 x 24 inches
Mark Dorf
Landscape 07
2017
UV print, Dibond, birch plywood, tempered glass, resin, bark, plants, synthetic turf, fluorescent lights
72 x 43 x 8 inches
Mark Dorf
Landscape 07 (detail)
2017
UV print, Dibond, birch plywood, tempered glass, resin, bark, plants, synthetic turf, fluorescent lights
72 x 43 x 8 inches
Mark Dorf
Landscape 07 (detail)
2017
UV print, Dibond, birch plywood, tempered glass, resin, bark, plants, synthetic turf, fluorescent lights
72 x 43 x 8 inches
Mark Dorf
Transposition
2017
installation view
Mark Dorf
Landscape 13
2017
UV print, Dibond, birch plywood
20 x 28 inches
Mark Dorf
Landscape 14
2017
UV print, Dibond, birch plywood, tempered glass, artificial rocks, resin, bark, plant, synthetic turf, fluorescent lights
58 x 45 x 13 inches
Mark Dorf
Landscape 14 (detail)
2017
UV print, Dibond, birch plywood, tempered glass, artificial rocks, resin, bark, plant, synthetic turf, fluorescent lights
58 x 45 x 13 inches
Mark Dorf
Landscape 14 (detail)
2017
UV print, Dibond, birch plywood, tempered glass, artificial rocks, resin, bark, plant, synthetic turf, fluorescent lights
58 x 45 x 13 inches
Mark Dorf
Transposition
2017
installation view
Mark Dorf
Landscape 15
2017
UV print, Dibond, birch plywood, tempered glass, synthetic turf, fluorescent lights
72 x 41 x 8 inches
Mark Dorf
Landscape 15 (detail)
2017
UV print, Dibond, birch plywood, tempered glass, synthetic turf, fluorescent lights
72 x 41 x 8 inches
Mark Dorf
Landscape 06
2017
UV print, Dibond, birch plywood
43 x 40 inches