AB[SCREENWEAR]
Get a room
October 21 - December 22, 2017

<![if !supportLineBreakNewLine]>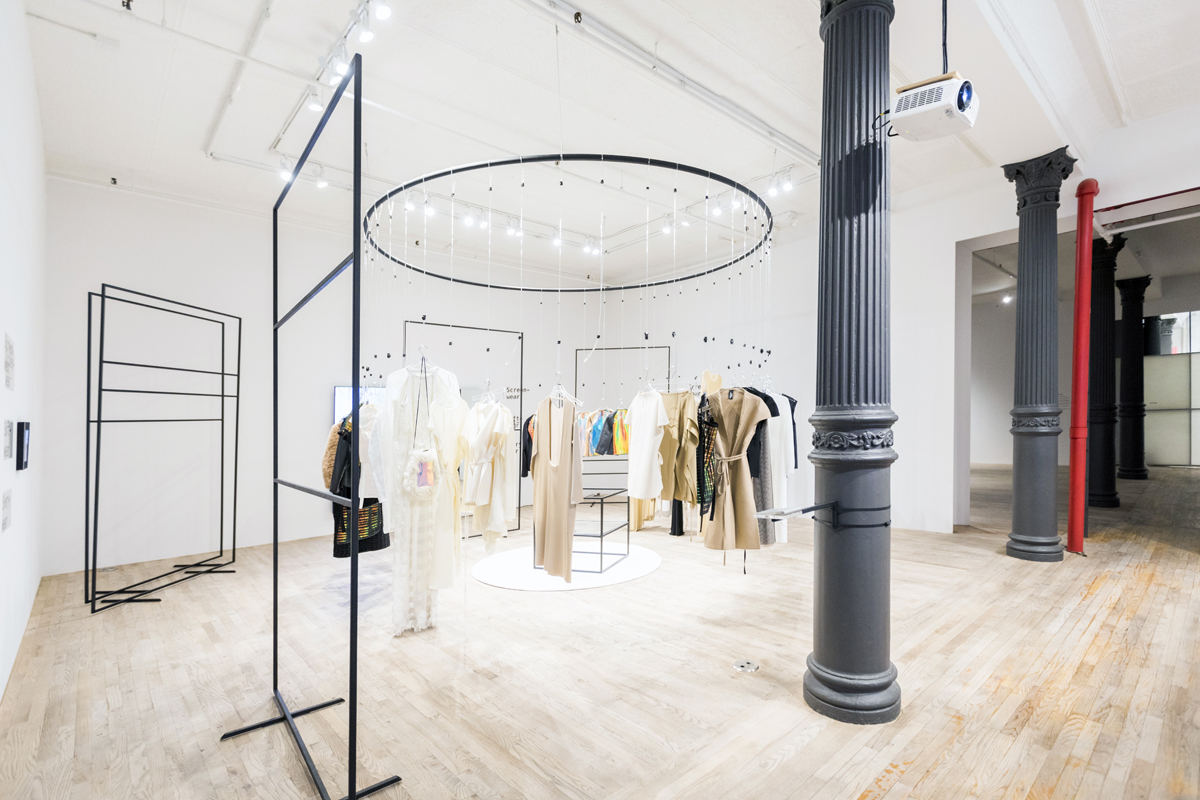 Ab[Screenwear], Get a room, 2017. Installation view. Photo: @jeniafilatova
For the first time in its thirty-three year history, Postmasters will present an exhibition of contemporary garments from Ab[Screenwear], founded and designed by Olya Petrova Jackson.

"The body is our general medium for having a world"1—it is an interface. Ab[Screenwear] positions the screen as an extension thereof. Conceptual, made-to-measure, and meticulously crafted, the garments reference the materiality of the screen, most explicitly with light-responsive dichroic panels and mesh that reveal or conceal the wearer's skin or phone (what the designer describes as "technology's skin"). Such ultra-current material choices are juxtaposed with traditional luxury fabrics like Italian leather, merino shearling, and silk.

To rephrase the Merleau-Ponty quote above in this context, the screen is our medium for being in the world. A new statistic about the deadening hours we spend in front of screens is a regular topic of the clickbait newscycle. Ab[Screenwear] is screen positive. The typical one-to-one experience shared with a device is instead integrated into the bodily designs of the garments, encouraging broadcast. Today's intimacy is exposure.

The exhibition design brings together two other private experiences—e-commerce and appointment-only retail—into a public setting driven by commerce: the gallery. A non-linear timeline of the brand that incorporates tactile media, like touch screens and fabric, overlaid with the projected online shop, is shown alongside a fitting room that transforms into a private space for one-on-one appointments. Garments are organized into three categories, which are the building blocks of the line: Screenwear, Softwear, Everywear. A fourth category, Capsule Wardrobe, derives from these three modes of dress, preselected for those who Get a room by signing up for a personalized fitting at abscreenwear.com/appointment.

MoMA's first fashion exhibition in seventy-three years, Items, asks in its subtitle, "Is fashion modern?" Fashion is contemporary. Dress is cultural—economic, functional, sociological, political, technological—and garments are enmeshed in networks of peopled exchanges. Get a room thus provides a rare opportunity to experience dress as it is lived.

Ab[Screenwear] was founded in 2015. The line's debut presentation at Postmasters during New York Fashion Week in February 2017 was reviewed in Forbes, The Cut, and WGSN. Additional features include Bullet, Office Magazine, Buro 24/7, BON, Metal, Harper's Bazaar, Elle Russia, Metro UK, Cosmopolitan Russia, and Nylon, among others. Beginning with what is now the label's signature item—a 21st century take on the leather jacket—Ab[Screenwear] has since expanded into a full line with a modular approach to dressing. It is seasonless and evolves in releases. The result is a minimalist capsule wardrobe with garments designed to layer and expose; most are reversible and can be worn with extensions to create new ensembles. Ab[Screenwear] upcycles material "leftovers" into new, one-of-a-kind fabrics, hand-crafted into collectible, lasting pieces.
1Mary Rose Barral, Merleau-Ponty: The role of the body-subject in inter-personal relations (1965).

Credits/
@anvrevvm / code
@bedj / video
@jeniafilatova / photography
@e__tat / multimedia
@zennovaart / starring

Thank yous/
@crosbystudios
@i_ira & @kulachek
@rogerforlovers
@statepr

abscreenwear.com
abscreenwear.shop
@abscreenwear

#iscreenthereforeiam #RGBisthenewblack

Sign up for an appointment!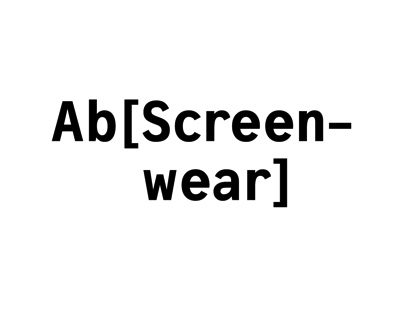 Ab[Screenwear]
Photo: @jeniafilatova
Model: @zennovaart
Ab[Screenwear]
Get a room
2017
installation view
Ab[Screenwear]
Get a room
2017
installation view
Ab[Screenwear]
Photo: @jeniafilatova
Model: @zennovaart
Ab[Screenwear]
Get a room
2017
installation view
Ab[Screenwear]
Get a room
2017
installation view
Ab[Screenwear]
Photo: @jeniafilatova
Model: @zennovaart
Ab[Screenwear]
Get a room
2017
installation view
Ab[Screenwear]
Get a room
2017
installation view
Ab[Screenwear]
Photo: @jeniafilatova
Model: @zennovaart
Ab[Screenwear]
Get a room
2017
installation view
Ab[Screenwear]
Get a room
2017
installation view